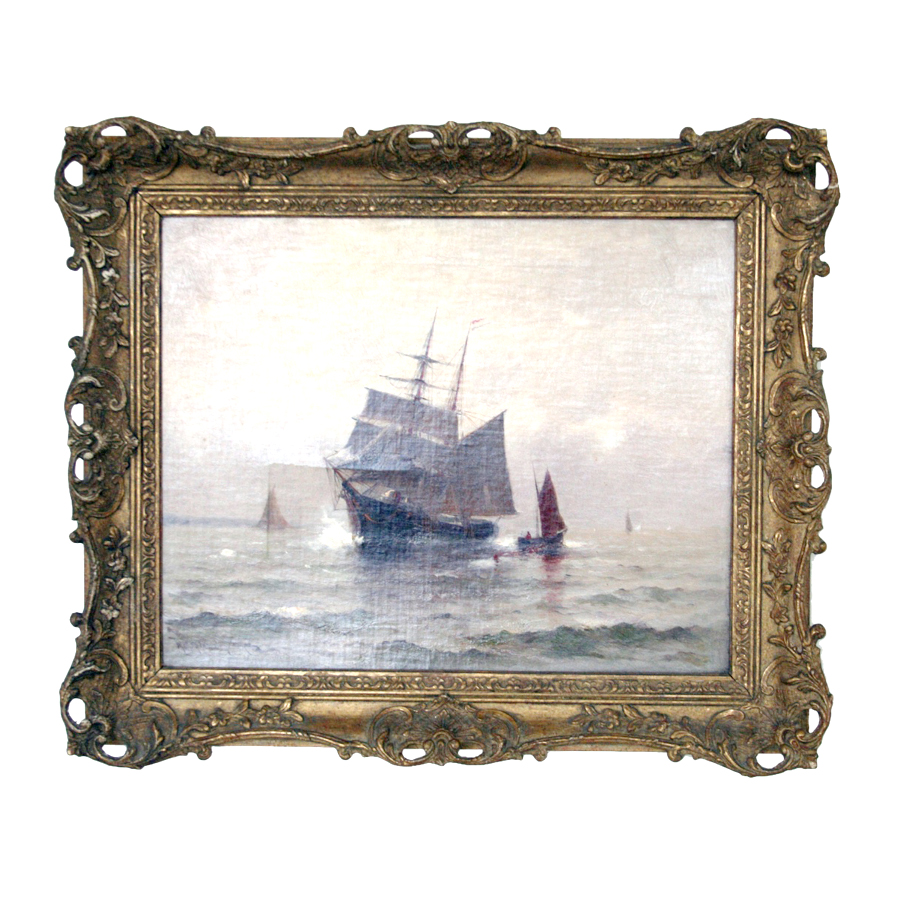 FRAMED: HEIGHT: 22 | WIDTH: 25½
UNFRAMED: HEIGHT: 16 | WIDTH: 20½
$4,200
Born in Boston, Massachusetts, Marshall Johnson set off to sea as a sailor at the age of 18 aboard the merchant ship "Sunbeam" bound
for South America. The ship burned at sea but the young Johnson was rescued and returned to Boston. His fascination with the sea,
however, was not tainted and he decided to develop his natural skills as a painter.
In 1870, Johnson applied to and was excepted to the
prestigious Lowell Institute where he studied with W. E. Norton. In 1887, He traveled to Europe to further develop his talent. He painted
throughout Holland, France and England.
Upon his return, Johnson established his own studio on India Wharf in Boston and devoted the next two decades entirely to marine painting. Marshall Johnson exhibited at The Boston Art Club (1880 – 1909), The National Academy of Design (1886 -1887), The Pennsylvania Academy of Fine Arts (1887), and The Art Institute of Chicago (1900 – 1902). Several of his works are in the permanent collection at the Peabody Essex Museum in Salem, Massachusetts. This oil on canvas is signed in the lower right hand corner.
Our item# 13824
CONDITION: This painting has been lined and there is a repaired L shaped tear a little to the left of center and a little below the center which is still noticeable. Some craquelure. In a 50 year old rococo style frame.